The BBC recently published this short piece on the use of Augmented Reality headsets (specifically the Microsoft Hololens) at an institution that I work at (Imperial College Healthcare NHS Trust). Follow the link and give it a watch and then see some of my thoughts.
Virtual Reality (VR) and Augmented Reality (AR) headsets have been used in Medicine for some time and the #covidpandemic has accelerated their acceptance.
We are seeing a sea-change in healthcare provision in the UK with the widespread involvement in Technology. While some aspects of healthcare have always integrated IT (UK general practice has had an electronic patient record decades before Hospitals), there has been huge reluctance to alter traditional models of running clinics. Even simple things that other industries have accepted for years such as instant-messaging was considered insecure and against policy. The Covid-19 pandemic created so many restrictions, such as Social Distancing, that the Healthservice has pivoted quickly and started to adopt technologies previously considered far-fetched. Video consultations, remote ward-rounds and remote monitoring of patients is just the beginning.
Uses of AR/VR in the Cardiac Cath Lab
In terms of this Holo-Lens type setup, there is potential value in Interventional Cardiology in the Cath Lab: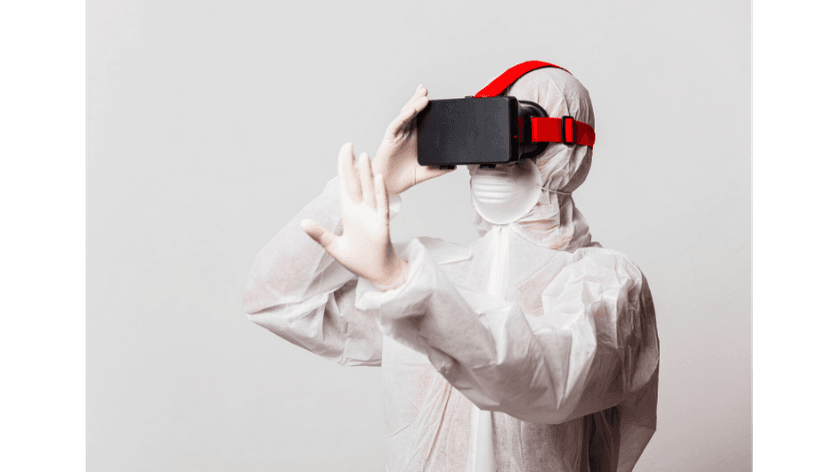 Constant Heads-Up Display: a constant display of the patient's details, background issues (such as reasons that antiplatelet drugs can't be used, need for anticoagulation, weight, prior stents, their type and location)
Overlay coronary imaging while wiring vessels: while we are all used to wiring vessels with a remote roadmap, imagine how much easier it would be if a dynamic roadmap was in your field of vision
Overlay coronary physiology during stent placement: this is particularly fascinating as my published research has shown that we can predict the physiological change in a vessel that a stent will create
Structural Heart disease: For operators performing TAVI, Mitraclip or paravalvular leak, one must keep in mind the 3D view of the heart while looking at limited 2D fluroscopy. While 3D transoesophageal echocardiography provides wonderful images, they are not always 'in-line' for the operators vision. An over-lay of the images, in real-time, directly in a heads-up display, may dramatically improve the procedure.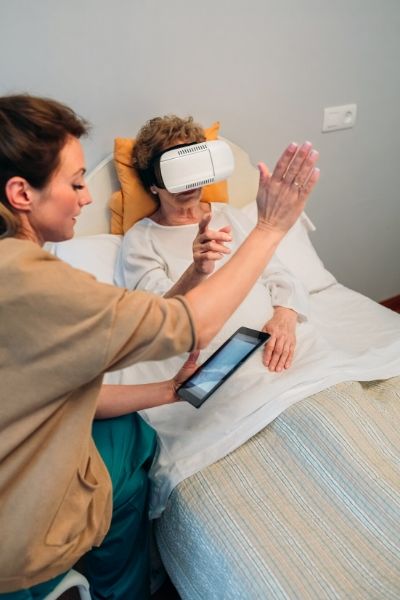 A display for patients!

If a patient could wear a Holo-Lens or other VR/AR headset, then we could play them relaxing imagery that could improve their experience while we work on their heart. This could reduce anxiety and the amount of sedation we need (this is beneficial as the more sedation we use, the greater the risk to the patient and slower ambulation after procedure). If patients are more comfortable during the procedure, this will be a huge boon to both patients and operators and make the procedure go much more smoothly.
Displays for patients have been tried for a number of treatments:

Respiratory rehab
In these situations, patients can complete complex rehab in their own space without having to attend clinic environments. Potentially, a centrally co-ordinated virtual rehab system could mean a single clinician oversees many patients undergoing the treatment simultaneously. Patients can be in the comfort of their own home without needing exposure to potentially hazardous Hospital environments.
Problems with VR/AR Headsets in the Clinical Environment
However, I see a number of Key challenges: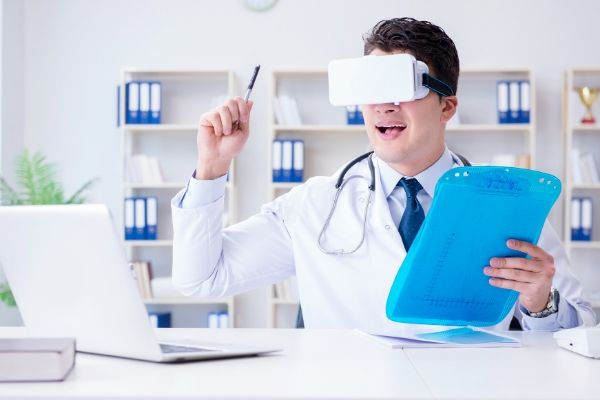 Maintaining key contact with patients: Many Doctors are already too distracted by technology with requirements to complete many mandatory fields on electronic records – this breaks eye contact from patients and reduces the connection we could otherwise have. In this video on the BBC, there is no eye contact with the patient at all. Clearly this is a setup shot for the cameras, but if this becomes the norm, then patients will miss out on true 'face-to-face' communication.
Cleaning: How do we maintain sterility of complex technology in this age of viral pandemics? In the cath-lab, there may be blood spray. On the wards, there will be an accumulation of droplets from the air. Hopefully chlorhexidine or Clinell wipes will be sufficient but this will likely need to be done between patients.
Cost: How much do the headsets cost, who maintains them and how do we keep them safe? UK hospitals are littered with failed technology products with expensive bits of gear just lying around in corridors. In our own Hospital, we spent ages finding super expensive kit that had been 'tidied' away into unmarked store rooms! Other kit just 'vanishes'. This is a deep-seated cultural issue in the NHS and we will need to work on this to ensure the invested money is well utilised.
Would be interested in your views. Has anyone had much traction in the use of this technology?
Contact me to discuss any issues raised in this commentary: use Social Media such as Linkedin or email me info@drnijjer.com

Dr Sukhjinder Nijjer
Consultant Cardiologist